Views and Tributes from the Choirstalls
Choir members write their stuff - Click on the tabs

ILKLA  MOOAR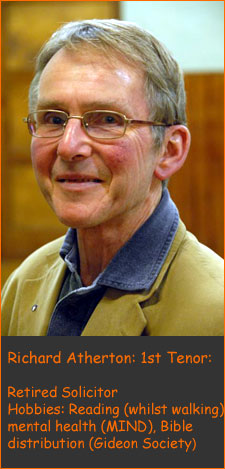 Richard explains his lack of hat:
Roger Sutcliffe and I (both Bradfordians) were discussing Ilkley Moor, which lies between Bradford and Ilkley. Roger in earlier days used to walk from Bingley to Ilkley Moor via the Dick Hudson Inn, over the moor to Ilkley and beyond.
My grandfather was a Bradford wool merchant and lived at Rombaldside just south of Rombalds moor, which includes Ilkley moor. My mother and her sister used to walk from home over Ilkley moor to Ilkley then catch the Bradford bus to return home.
When I was young my grandfather moved to Ben Rhydding near Ilkley, on the north side of the moor. My sister and I used to walk up to the famous Cow and Calf rocks. The Cow is a high cliff, below which is an enormous boulder called the Calf, which can be climbed, with difficulty.
My mother never liked wearing a hat so always walked on the moor baht'at!
Richard Atherton  
 
A JOURNEY OF HOPE - Author John Watson/Trials & Motorcross News Reporter & Photographer and our own Dalesmen Singer
A Journey of Hope is a 85,000 work work of fiction set at the turn of the 19th Century, moving from poverty stricken York out into the wild, spectacular, untamed beauty of the North York Moors. A gripping story of a young girls fight toward a better life. 
RRP £7.99 email jfw660577@gmail.com or phone 01287 660577
It is in many bookshops at Whitby, Guisborough, Helmsley, and Thirsk.  He will be visiting Scarborough so hopefully in bookshops there too. Also Danby Lodge and Sutton Bank visitor centres and Castleton Tea Rooms.  It is selling well and hopefully a review in This England magazine and also the Daily Telegraph.