Views and Tributes from the Choirstalls
Choir members write their stuff - Click on the tabs

Uppsala Visit
Gala Night
Redemption
Scarborough Concert
Ron Kerrison writes:
A VISIT TO UPPSALA
It was not so long ago that a church choir, based in the Savja suburb of Uppsala, Sweden, touring the Yorkshire coast
area, invited the Dalesmen to join them in a concert at Saint Hilda's, Whitby. The evening ended in a combined supper and entertainment in Caedmon school hall, before they shot back to their Scarborough hotel.
          Our roving ambassador and his wife, Nicola and David Harforth, well versed in the antics of our long time Swedish friends of the Skara Manskor, began a correspondence with Savja which resulted in our recent hugely enjoyable and successful visit to Sweden's oldest university town Uppsala, famed for its associations with ancient national history and such figures as Linnaeus and Ingmar Bergman.
           The packed itinerary included 2 concerts, the first with The Ladies' Choir of Danmark. We introduced ourselves with an oration in the native tongue by our resident baritone interpreter, which raised an intended guffaw and a clap for effort. This was followed by an "afterglow"(-ugh!) feast and musical sketches.
          The second concert, at the Holy Trinity Church, (Trefaldighetskyrkan!) the parish church of Uppsala and close to the cathedral, followed a morning service of Communion, interspersed with our singing of sacred music. One could admire the surrounding wall paintings of Albertus Pictor and reflect that Helmsley and Pickering churches had been similarly adorned in past centuries.
          The guided tour of Gamla Uppsala museum and the Royal Mounds was utterly fascinating. It was also the location of the "Thing" of all Swedes which was a 'thing' (general assembly) held from pre-historic times to the Middle Ages. Our own Canon Atkinson in his "Memorials of Old Whitby" talks of a place called "Thingwala" in a list of Abbey Lands which include Stakesby, Hawsker and Stainsacre. Its site was on the cliff top near to the abbey ruins, now probably  long fallen into the eroding sea – another link with our Scandinavian past….
            The Highlight however was an informative and humourous guided tour of the Domkyrka itself – the tallest gothic cathedral in Northern Europe. This was followed by a concert of music with a mixed theme, at the very transept where kings and queens of Sweden have been crowned. Stephen, of course, cannot pass an organ without putting it through its paces, and the whole combined offering attracted a large audience in the nave.
           A long journey was ameliorated by a comfy hotel, our wifely companions, good food and endless humour! "Harforth Tours" will no doubt follow up this excursion with a future return visit from Savya kyrko-kor.
           It were right good!  Det var mycket got!
Although slightly down on ticket sales, The Dalesmen Singers Gala night 2016 at Danby Methodist Chapel still managed to raise the fantastic sum of £1043-50p for the charity Whish (Whitby Hidden Impairment Support and Help group) due to the generosity of an appreciative audience and the choir`s loyal supporters. Vicky Marshall and Yvonne Harrison were on hand to receive the cheque the Rev. Alan Coates.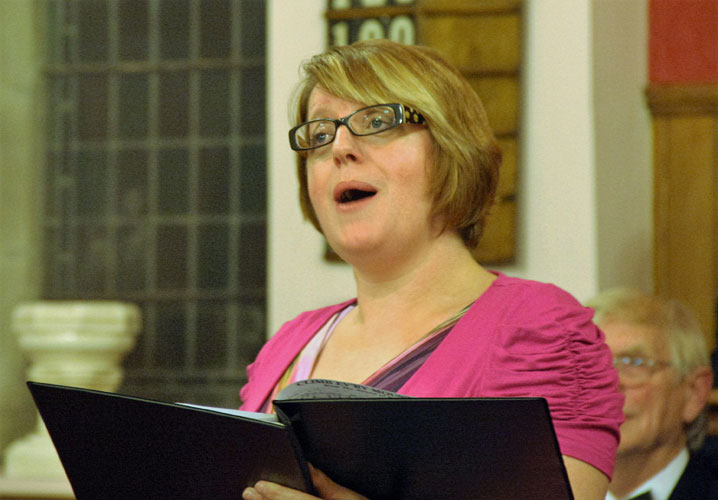 Even allowing for lack of ticket sales, the evening proved a great success and Helen Cawrey, the talented soprano guest artist for the night really did thrill everyone with a superb performance.
Helen holds quite an affinity with this area, brought up in Egton as a young girl and began singing in her local church choir at the age of three. But after moving to the midlands her career really took shape, performing in music festivals across the country, plus singing with numerous male voice choirs.
On the Dalesmen Singers performance, a much livelier repertoire, coupled with a splendid dash  of humour in a couple of songs from some of the more flamboyant members in the choir, rewarding, what is, a very loyal audience, to a really enjoyable night of entertainment. There followed by an excellent supper and raffle in Danby Village Hall.
Thank you to everyone who made this evening such a success.
Stenke Razin - Latest discovery
Linsay writes:
Good news for those Dalesmen who have been worried about the ending of Stenka Razin and wondering if there was something missing in the story. An additional verse has come to light and we have been given privileged access to the text. The new verse was written, it is believed, to comply with a Positive Image Promotion directive issued by the Cossack Department of Culture. An English version has now been issued which goes as follows:

Here follows an announcement
(Lest our audience be alarmed)
That no animals or people
In our ballad song were harmed.
All the warriors followed strictly
Every health and safety rule,
And the Princess met Tom Daley
For instruction at the Pool.
Concert at Queen Street Scarborough
John Watson writes:
The choir enjoyed a great night of singing (without copies, I might add) in Queen Street Methodist Church, Scarborough on Saturday, May 13th and proceeds were in aid of Church funds.
Disappointingly, three similar concerts were booked on the same night, close, or around the area at other churches and chapels, which meant a relatively small turn out.

Even so, audience participation proved particularly impressive with the popular Rod Stewart `Sailing` and although not a seafaring man among the choir, apart from Geoff Thrall and John Thompson,`The Jolly Roger` appeared to go down well.
Adding variety, solo`s by Colin Easterby, Hinderwell`s answer to Paul Robeson, followed by Harold Jones, while the duo of Harry Collet and Frank Templeton added their own brand of humour (what a lively little mover Frank is when the mood takes him) with a rendition of `The Bold Gendarme`s` song, and, accomplished as ever, Ann Hartley was our Accompanist for the evening. M.D. Stephen Maltby rounded the evening off with a fantastic performance on the organ, before the choir signed off with `Morte Criste.
With refreshments provided at the interval an enjoyable night for all.